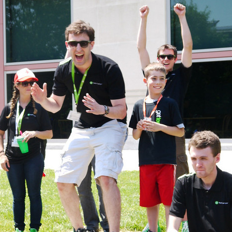 I am a Computer Science major, Teacher Education minor at New York University. I love programming. My current focus is developing iOS app using Objective-C. I also have experience with C, C++ and Java.
For the past four summers I have worked at iD Tech Camps at Princeton University. I have worked as an Instructor, Lead Instructor and Curriculum Developer. Each week I get 8 students in my class. The have an entire week to learn new material and ultimately create a project to take home. The camp is also an overnight camp so we hold video game tournaments, movie nights, a casino night and a disco!
I was featured in the the 2014 Up and Comers Issue of Washington Square News. The full issue is available here.
I was an iOS Tutorial Team Member for RayWenderlich.com. Writing for this site has been a tremendous opportunity. The site gets millions of hits a month. I work with some incredible people to edit and improve my tutorials.
My Tutorials
Learn to Code iOS Apps. The series teaches how to write an iOS app in Objective-C given no prior programming experience.
iOS 7 Blur Effects with GPUImage This tutorial shows different techniques to create blurs in iOS 7 using GPUImage.